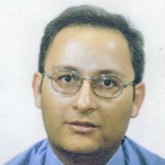 Lecturer
Tel: 23210 49407
Email: akonsta@teicm.gr
Office: ΣΤ126 (1ος Όροφος)
Collaboration Hours: Thursday11:00-13:00
Diploma in Surveying Engineering, A.U.Th.
Postgraduate studies:
Postgraduate Studies in the Specialization of Vessel Improvements, Department of Agriculture, A.U.Th.
PhD Candidate (2006) Department of Spatial Planning, Urban Planning and Regional Development Engineering, Polytechnic School of the University of Thessaly
Lessons:
Introduction to Geographic Information Systems
Introduction to Cartography
Applications of Geographic Information Systems
Cartography
Scientific Knowledge Object:
Geographic Information Systems
Research, Professional and Teaching Experience:
Practicing a Freelance Profession within the scientific area of ​​the Surveyor Engineer since 1992 (AEM TEE 55865/89), as a Public and Private Works researcher in the categories 16 - Topography Studies and 13 - Hydraulic Works Studies of the Register of Researchers, as a researcher in applications of Geographical Information Systems, as well as in educational matters in all of the aforementioned objects.
Instructor in a number of seminars on Geographical Information Systems, CAD Automatic Design Systems, as well as cartographic concepts and procedures (1992-2003).
Basic instructor at the Epanomi Vocational Training Institute - branch "Expert in Geographical Information Systems" (1996-2004).
Lecturer in the discipline of "Geographic Information Systems" at the Department of Geoinformatics and Surveying of TEI of Serres (2003-2019).
Teaching experience in the Interinstitutional Master's Program "Prevention & Management of Natural Disasters", resulting from the partnership of the Department of Geoinformatics & Topography with the Department of Geology and Geoenvironment of EKPA.
Participation in 16 research projects.
Publications - Author work:
Articles in peer-reviewed scientific journals: 1
Participation in conferences with presentation (with judges): 14
References to published conference proceedings: 4
Other publications: 26