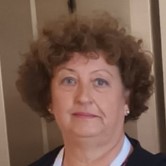 Glykeria Kariotou
Lecturer in Applications(2008) Architect Engineer
International University of Greece, Serres Campus
Faculty: Engineering
Department: Topography and Geoinformatics Engineering
Work Tel: +30 2321049388
Email: kargly@ihu.gr
Studies:
Dipl. Civil Engineer of Structural Works KATEE (Center for Higher Technical Vocational Education) Serres (1983)
Diploma in Architect Engineering Polytechnic School of Aristotle University Thessaloniki (1988) Member of the Technical Chamber of Greece since 8-6-1988 with registration number 52627.
Degree in Pedagogical Studies School of Vocational and Technical Education (SELETE) (1992)
Postgraduate Specialization Diploma "Environmental Planning of Cities and Buildings", School of Applied Sciences and Technology E.A.P (Hellenic Open University) Patras, (2004).
Candidate. PhD ""Bioclimatic design of outdoor spaces in education buildings: the case of higher education buildings" Democritus University of Thrace.
Discipline: Urban environmental planning
Courses:
Technical - Topographic Design Ι
Urban Transformation
Environmental Planning of Cities and Opens Countries
Urban Planning
Professional Teaching and Research, Experience:
Professional Engineering License (Law 716/77), Ministry of Environment, Urban Planning and Public Works – General Secretariat for Public Works, Register for Professional Engineering License Holders, in categories 2 (Urban and Street Planning) and 6 (Architectural Study of Buildings)
(1983 – 1995) Self-employed architect (architectural constructions, building permits, studies and supervision of private construction projects)
(1995-2008) Professor in secondary education (Π.Ε 12)
(2008-to date) Lecturer in Applications
Participation in 12 research projects
Publications:
In peer-reviewed scientific journals: 4
In conference proceedings (with referees): 6
In conference proceedings (without referees): 1
In collective volumes: 3
Compositions: 2
Referenced:4